Our Clients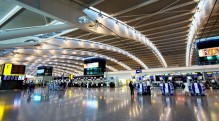 Terminal 3 at Heathrow Airport sees over 19 million passengers per annum. Surely some of the most heavily used washrooms in the country.
Heathrow through the cleaning contractor OCS trialled the Waterfree system and after seeing the vast improvement in washroom hygiene and odour rolled out the system across the terminal.
Land Securities are the largest commercial property company in the UK and are at the forefront of sustainable initiatives. Land Securities trialled the Waterfree system in their head office alongside a number of other systems. The decision was made to push ahead with the Waterfree system due to it holding up to the high expectations required and the fact we deliver an ongoing service agreement.
The system has been installed at a number of office blocks and shopping centres, including the flagship St David's in Cardiff.